UK Diasporas Links
 
UK DIASPORA COMMUNITIES ARE REPRESENTED HERE,  CHECK YOUR DIASPORA CONTACTS HERE.
 THE WORLD OF DIASPORAS
LONDON DIASPORA COMMUNITIES
Visit Southall London's largest Indian Community
 The Southall Vaisakhi Nagar Kirtan (procession)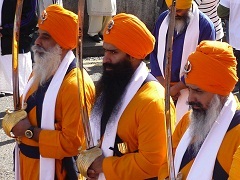 Tens of thousands of people join in the annual Vaisakhi celebrations in Southall. This occurs on a Sunday in late March or in early April. The Police were expecting between 75,000 to 100,000 people to attend in 2012.
The religous ceremony starts at 11 am at the Havelock Road Gurdwara.
After mid-day, a lively and colourful procession (nagar kirtan) makes its way through Southall from the Havelock Road Gurdwara to the Park Avenue Gurdwara to celebrate the Sikh New Year and the harvest festival.
Although, the Vaisakhi day is celebrated on 14th April, the procession in Southall takes place in late March or early April. It is led by traditionally dressed Panj Piaras. The Guru Granth Sahib, the holy book, is carried along the procession.
It is a trouble free event for all the family. All those attending are calm, considerate and in a happy mood. The procession route is covered with food stalls serving free food, fruit and drinks from 10am to everyone.
Pavements and roads from King street to the Broadway are packed full of people. At the peak, it is impossible to move in any direction due to the sheer number of people for about 4 hours.
Police advise motorists to avoid the area. Those coming to Southall to join the celebrations are advised to use public transport if possible. Signed road closures, parking restrictions and bus diversions are in place from early morning until the evening.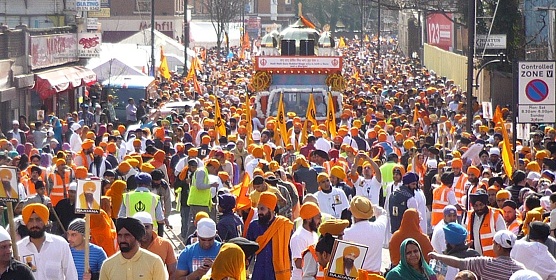 Visit the Chinese community In London
The London CCC was founded in 1980 and was the first Chinese Community Centre in the United Kingdom. The Centre's mission is to preserve and promote Chinese culture, arts and identity, whilst helping the community to better integrate into mainstream UK community. The Centre is one of the busiest centres for Chinese culture and its communities in Europe and has attracted several Royal visits. Our team of well-trained staff, dedicated volunteers and professional management committee members provide wide-ranging support and activities. These range from welfare and benefits support and advice to language classes, cultural and recreational activities, elderly support, a healthy eating luncheon club, youth club and fundraising events. The Centre continually strives to meet the changing and growing demand for services and activities within this evolving community in a climate of reduced government funding.  We are always looking for ways to build on this and be better at what we do.
We are facing severe cuts to our funding and donations due to the current economic climate and would therefore welcome any donations which can be done when visiting the centre.

www.meetup.com/americansabroad/
www.facebook.com/americansabroad  

Americans in London; We've been running great events for the expat North American community for over 8 years now!
This is a group where Canadians, Americans and those interested in North American Culture get together to meet new people, exchange experiences, and make lots of new friends. The group comprises of professionals, international students, long time residents and those that are new in town. There are always new people to meet and friendly familiar faces!
We always meet in a new location within central London as a way of exploring this great city! Sign up to find out where we meet next!
Special Note: Do Not Join this Meetup Group using Facebook. It allows Meetup.com to go into your facebook account.
Sign up to Meetup.com the normal way here:
http://www.meetup.com/americansabroad/join
Finding the SA London community
Feeling lost in London? Need to connect with other South Africans, find a job, hear about home or just wake up and smell the boerewors? Check out our comprehensive guide to South African news, services, social clubs, communities, business networks and entertainment in London.
Aaardvark
Soos baie van julle seker al gehoor het, het daar 'n nuwe Afrikaanse pub oopgemaak in Surray Quays. Kom maak gerus 'n draai. Oop elke aand vanaf 18.00.
The Africa Centre
The heart of Africa in the heart of London.
African South
Portal and forum for Saffers in the UK.
AfricaUK
News, entertainment, business, networking, discussion forums, listings of African service providers and organisations in the UK.
Antipodate
Site for Aussies, Kiwis, Saffas, Zimbos or other southern hemisphere expats in the UK and Ireland who are looking for a friend, date, travel partner or serious relationship.
Black Pepper
Black Pepper provides entertainment for South Africans in the UK. The company organise concerts, parties, comedians, golf days, DJs, corporate events, outings, sporting events and coach trips.
The Bok Bar
The Springbok Bar has been renamed and refurbished. There are two Bok Bars in London, offering South African beers and wines, as well as plasma TV screens for sporting events.
Braai Club
A free social club that organises braais for South Africans in the UK, "and shares our braaing expertise with our UK hosts". The club offers discounts and other services to members.
Community Heart
Community Heart is a Manchester-based charity focused on health, education and reconstruction training projects in South Africa, based on the principle of self-help. Volunteers collect books for SA schoolchildren and raise funds for Rape Crisis and HIV/Aids-orphan projects, among others.
Gumtree
Gumtree was started in London in 2000 as a community site designed to connect people who had just arrived in the city and needed help with accommodation, employment and social opportunities. It's now London's largest flat share and job site, and one of the city's best local buy-and-sell forums. There are also Gumtree sites for Birmingham, Brighton, Bristol, Guildford, Manchester, Reading, Glasgow, Edinburgh, Cardiff and Dublin, as well as at home in Cape Town, Durban and Joburg.
Homecoming Revolution
An independent non-profit organisation aimed at encouraging and helping South Africans living abroad to return home. Organises numerous events and seminars.
Jislaaik
Portal for South African expats offering news, jobs, e-mail, a dating service and more.
KaeKapaKae
News and event links, plus a gadget/CD/DVD store, for South Africans in London and the UK.
Radio SA
Radio station for South African expats, broadcast from London. Listen online.
Rainbow Nation
An advice and information portal for South Africans living and working in the UK. Links to forums, immigration advice, clubs and societies, recipes, online shops and more.
SA Business Club
The South African Business Club was launched in September 1993 as a meeting point for South African business people in the UK. The club allows South Africans and those with South African connections to network and pool resources for business development both in the UK and abroad. An online directory of members is maintained with members-only access.
Saffers Unite
A social club for South Africans, Australians and New Zealanders in London. Organises drinks and parties in London via an e-mail database. It's a fun, non-commercial service so, unless otherwise stated, there is no cost.
Sanza
A site for Sanzas (South Africans, Kiwis and Aussies) living in the UK. Offers a range of information, news from home, a chat forum, competitions, an events diary and an online shop for goodies from home.
SA PROMO
Home-based South African? Make sure South Africans living in the UK don't forget about your products and services. UK-based South African? Get quick access to world-class products and services by South Africans, for South Africans.
SA Reunited
Track down your long-lost South African school, university and army friends. Read their notes and view their photos. Includes a dating service.
South African Times
The South African Times has been the voice of South Africans in the UK since 1993 and has recently been re launched on a monthly basis. It is a free magazine available on the last Tuesday of every month, from branded bins and promotional teams at South West tube stations, as well as South African shops, bars and supermarkets in the South West. The new South African Times website offers the latest news, expat events, visa advice, discussion forums and a jobs section.
Slapchips
A comprehensive directory of South African businesses and clubs in the UK and across the world.
South Africa House
The South African High Commission to the UK, based in London.
The South African
Another free newspaper, read by an estimated 80,000 South Africans throughout the UK and Europe on a weekly basis. It is distributed every Wednesday and available at a range of tube stations, restaurants, pubs, travel agents and other South African hot spots in greater London, Edinburgh, Cardiff, Reading, Oxford, Cambridge and Brighton.
Springbok Supporters Club
The official Springbok Supporters Club in the UK.
UpnUnder Comedy
Based in London, UpnUnder is the northern hemisphere's only South African promoted comedy touring and productions agency. It brings the best international touring comedians from South Africa to audiences in the UK, South Africa, Europe and the world.
Voetsek
Biltong, news, opinion, flights, info, jobs e-mail, visa help, advice and many other services for South Africans in London, the UK, Ireland and Europe.
WORKgateways
Helps organise engineering, town planning, construction, nursing and other jobs in the UK for travellers from South Africa, Australia, New Zealand and Canada.
Yebo Africa
Cheap phone calls from the UK to South African landlines and mobiles, and to Zimbabwean landlines.
Zulus Bar
Zulus Bars are South African themed bars, one in Leytonstone (east Lond
Read more:www.southafrica.info/abroad/london-communities
BUGANDA HERITAGE ASSOCIATION
(UK And IRELAND)
CONTACT BUGANDA ASSOCIATION IN UK HERE
NIGERIAN COMMUNITY LEEDS UK
Nigerian Community Leeds (NCL) is a registered Charity based in Leeds, West Yorkshire.
NCL exists to support members of the public who are Nigerian by birth, ancestry and
descent, marriage, naturalisation or adoption in and around Leeds. We cater for people of
all ages and enable them to reach their full potential as individuals contributing to health &
socio-economic wellbeing in the city of Leeds.
Our key aims are:
The Advancement of Education
The Promotion of Racial Harmony
The Advancement of Enterprise
We work towards enabling equality of access to support services for Nigerians, thereby
ensuring the welfare and wellbeing of all Nigerians. Our membership is made up of Nigerian
individuals, students and families residing mainly in West Yorkshire.
NCL holds regular events to provide a platform for the furtherance of our aims.
NCL is managed by a board of trustees, led by a chairman who is supported by elected
officers in the functions of Administration, Finance, Welfare and Projects.

POLISH EXPATS ASSOCIATION UK
PEA is a non profit organization set up in October 2009 to support adaptation and integration of Poles in the UK. Our aim is to empower communities and improve the lives of Poles in the UK by offering different forms of support, information and personal development. We also create positive environment for integration and community cohesion promoting art, culture and mutual understanding.
Since April 2012 PEA is registered as Community Interest Company and offers support to all Central and Eastern European communities in the region. PEA does not have a permanent budget, only budget for specific projects. We do not employ full-time employees, and operations are based on voluntary activity. We maintain our activities through projects, volunteer work and commitment of our founders. We conduct PEA for our community, because we believe that there is an urgent need to fill the gap that exists in the West Midlands to support and promote Polish community and culture.
What we do:
Provide information and guidance services on Welfare Rights, Civic Responsibilities, British education system and employment
Provide training, courses, translations and interpreting services
Support children and young people
Build partnerships with other organizations and services to build integration and community cohesion
Offer networking, support and development opportunities through our Membership scheme
Organize high quality cultural and celebration evens
Exhibit internationally acclaimed as well as emerging contemporary artists
– See more at: http://polishexpats.org.uk/what-we-do/#sthash.Q2tAZJPF.dpuf
 VISIT THE LATIN AMERICANS IN LONDON
Latin American London
Dear LAB supporter and friend,
Latin Americans living in London and the UK have long been a largely invisible and unrecognised community. The ethnicity box In the UK census form does not include 'Latin American', let alone any of the range of ethnicities that comprise being Latin American. It's not surprising that there is no accurate information available on the number of Latin Americans living in the UK (estimates range up to a million) and that this community has been largely ignored by the government and mainstream society.
This situation is slowly changing and as Latin American culture is becomes more visible, communities are starting to fight for their right to be recognised alongside other minority groups in the UK. Alianza Iberoamericana promotes a campaign of the Thee Rs: Recognition, Respect and Regularization for the Latin American and Spanish- and Portuguese- speaking communities living in the UK. They highlight some very interesting facts: for example in the borough of Lambeth, Portuguese is not taught in any secondary school despite the fact it is by far the largest minority language spoken there.
The first wave of Latin Americans came to the UK as exiles from the Southern Cone dictatorships. Subsequent waves of migration have included Colombians and Ecuadorians in the 1980s and 1990s, with many of them claiming asylum, although this is rarely granted. In recent years the majority of new arrivals have been economic migrants, with Brazilians forming the largest nationality group, with secondary migration from other European Union countries, especially Spain, adding to the numbers.
Pioneer in supporting this significant, although legally unrecognised, ethnic minority group in British society is IRMO, a charity based in South London that works with Indo-american refugees and migrants. John Perez, one of their directors, explains the issues to LAB's Nayana Fernandez (Listen here).
Latin American women in the UK face multiple discrimination. The Latin American Women's Rights Service spoke to LAB (read more) about their work and their report "No Longer Invisible" (The full report can be downloaded here), which is the most comprehensive research on London's Latin American community undertaken to date providing a picture of considerable hardship, discrimination and social exclusion.
La Casa Latina offers legal and advisory services, training, childcare and cultural activities to the Latin American community. Their online magazine, Ventana Latina, is dedicated to reinforcing Latin American identity in the Diaspora. Read more.
Lucila Granada, a long term LAB collaborator and PHD student has researched the links between language, identity and integration among the members of the Latin American community of London. She explores the problem of language as an obstacle for the integration of many Latin Americans in British society. Read more.
Braziliality, a non-profit organization, promotes Brazilian artists and others inspired by Brazil. Alicia Bastos, its founder, artistic and management director talks about about how culture becomes part of the identity of the Brazilian diaspora. Read more.
Latin American culture and music in London are constantly transforming and adapting to new influences. Movimientos combines live music with documentary film to raise awareness about social and political issues in the region . The bands signed to their label are represent a fusion of Latin American, London-based and other global sounds Read more.
A short video produced by LAB's Nayana Fernandez  contains brief interviews  with11 Latin American immigrants based in London. From different backgrounds and from various countries in the region, including Argentina, Brazil, Colombia, Ecuador, Honduras and Peru, they tell us about their reasons for moving from their home country and their impressions and experiences of living in the UK. Watch here.
A second video we recommend to LAB readers is called  "La Gran Historia" – episode 9, produced in Spanish by HispanTV and presented by Javier Farje, from LAB. It is a 24-minute programme on the effects of Latin American culture in the UK and its interaction with British culture.
Finally, in this cornucopia of cultural riches, LAB has drawn together a brief directory of organisations, events and their web-links Read more.
VISIT THE ZIMBABWE DIASPORA IN THE UK
Mission Statement
The Zimbabwe Community Network is a proactive organization which seeks to promote and protect the interests of Zimbabweans though social, financial and interactive programmes and activities
Vision
Home away from Home
Aims:
Subject to the availability of funding we hope to achieve the following:
To build an effective and accountable organisation with strong membership participation that will catter for Zimbabweans and their interests
To facilitate the intergration of Zimbabweans in Ireland and to network purposefully with other organisations and communities
To support Zimbabweans living in Ireland economicaly, socialy, personaly and in career development
To disseminate information of general interest to Zimbabweans including information on consular affairs
To promote social intergration amongst Zimbabweans and preserve national pride and identity
To develop an investment and humanitarian assistatnce initiative for Zimbabweans
Following the sudden and untimely death of Margaret a Zimbabwean lady who was living in Dublin, Ireland some Zimbabweans and friends who were involved in caring for her decided on the idea of a social club. A meeting was held in Dublin, on Saturday 11 October 2008 to discuss the formation of a social club to catter for the needs of Zimbabweans living abroad.
The idea has since grown to bring together Zimbabweans, friends of Zimbabweans, and other nationalities so that we can work towards a common goal for the benefit of everyone. Unless we decide to come together we will never realise a our dreams and aspirations.